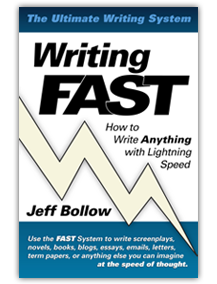 Writing FAST
(ebook cover)
"I have just about EVERY writing how-to book out there and, I have to say, this is on my TOP 3 list. This is an AWESOME WRITING SYSTEM for ANYONE who is interested in writing anything quickly from screenplays, novels, non-fiction books, articles, to anything else that requires long, structured technique."

Alex Foster
Los Angeles, CA

"This is an extraordinary book, much like the Artist Way it gets you to focus on the "quantity and not quality," of your work. Mr. Bollow teaches you techniques that get you to do the actual act of writing."

Elizabeth Simmons
Studio City, CA
Now Available as an Ebook —
PDF, Kindle, Nook & iBookstore!
Ready to start writing fast NOW?

You could have Writing FAST: How to Write Anything with Lightning Speed within minutes — the Ebook version is now available for immediate download!

You get exactly the same content that's in the bestselling printed book, but since you don't have to wait for the physical product to ship to you, you can get started using Writing FAST today!
We love the printed version! But it doesn't matter which way you read it. Just be sure to use Writing FAST to turn your ideas into compelling writing quickly.
Or jump directly to your preferred platform:

Become an Affiliate!

After you've seen (and experienced) the value of Writing FAST, you'll probably want to let your friends know about it.

Well, now you can earn a very generous commission for telling people about it! Become an affiliate, create a simple sales page, and earn 33% of the sales price (we figure we'd pay that much to a book seller anyway, why not pay it to you?).

If you'd like to know more, email us at

, and we'll send you an info-pack. If you already know how to do it, follow this link and sign up today: